UCF is one of the largest college campuses in the United States which means that there are so many beautiful spots to take photos! Many students graduate and still haven't visited all of the spots on campus, but I want to ensure that each grad selects locations that have the most symbolic meaning to represent them and their college experience. As a UCF Graduation Photographer, I have had the opportunity to discover some unique spots that offer beautiful backdrops for your photos! This is a guide to my ten favorite spots to take photos on campus! I recommend choosing 2-3 locations for each hour long photo session as there is a lot of walking to get from one location to another. 
Want to learn more about Taylor Kuperberg Photography Graduation Portraits?
#10 Addition Financial Arena, UCF Graduation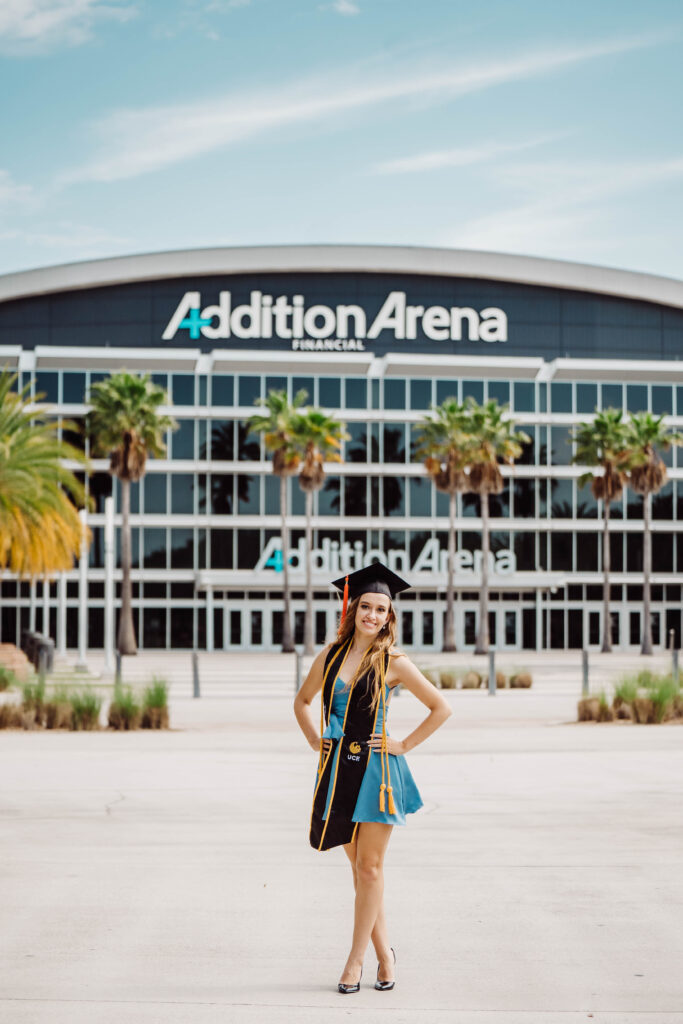 The Addition Financial Arena is very popular among grads as it is centrally located and evokes many memories of concerts or basketball games for some students. The glass windows covering the front of the stadium offer a beautiful backdrop for individual and family photos alike! It is a short walk to Memory Mall, Spectrum Stadium, and more!
#9 The Student Union Seal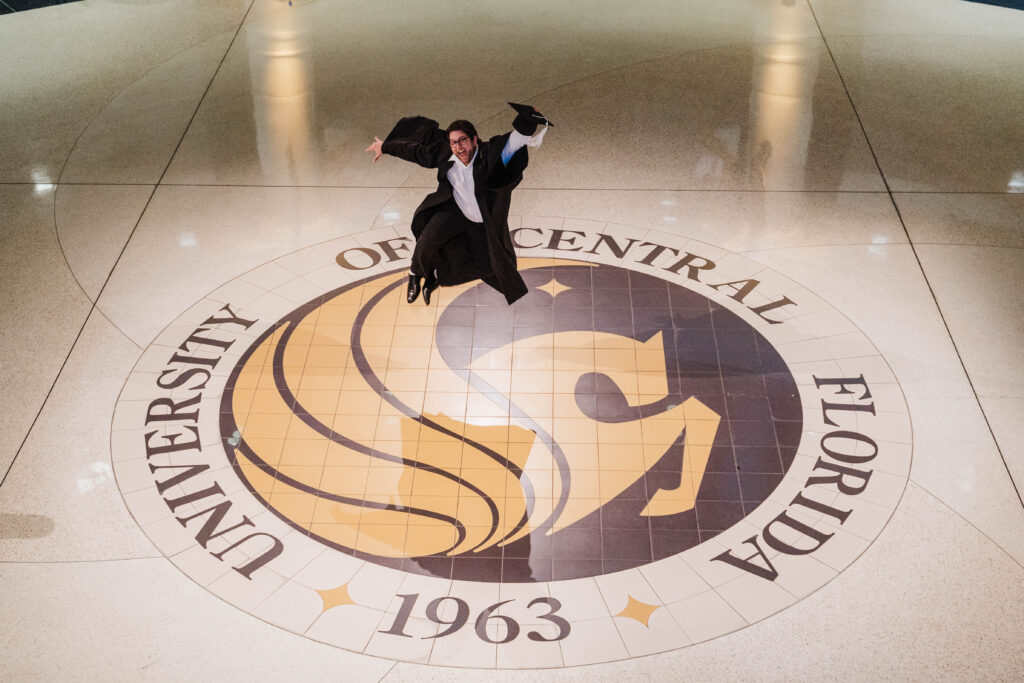 On the floor at the center of the circular student union is a large University of Central Florida seal with a meaningful tradition attached to it. Every freshman class at orientation is instructed not to step on the seal until they graduate or they never will. Each year, UCF graduation allows grads to take photos on this very unique spot. What I find especially unique about the photos at this spot is that they can be taken from a higher view point as there are many open floors that overlook the seal. While the Student Union isn't always open, I always recommend considering this location as it offers fun photos with a great tradition.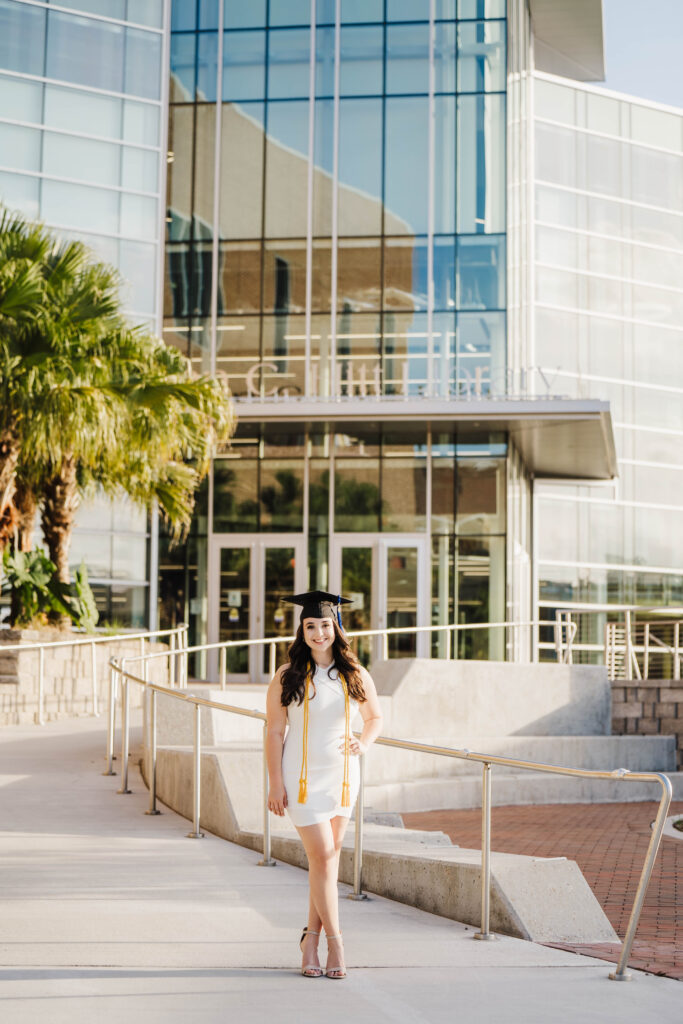 One of the newest buildings on campus, the John C. Hitt Library offers a modern location for photos on campus. The dynamic turquoise windows outside offer a vibrant splash of color to make grad photos pop! This is a must-have spot for students who spent many long nights studying for exams or working on projects there!
#7 Memory Mall, UCF Graduation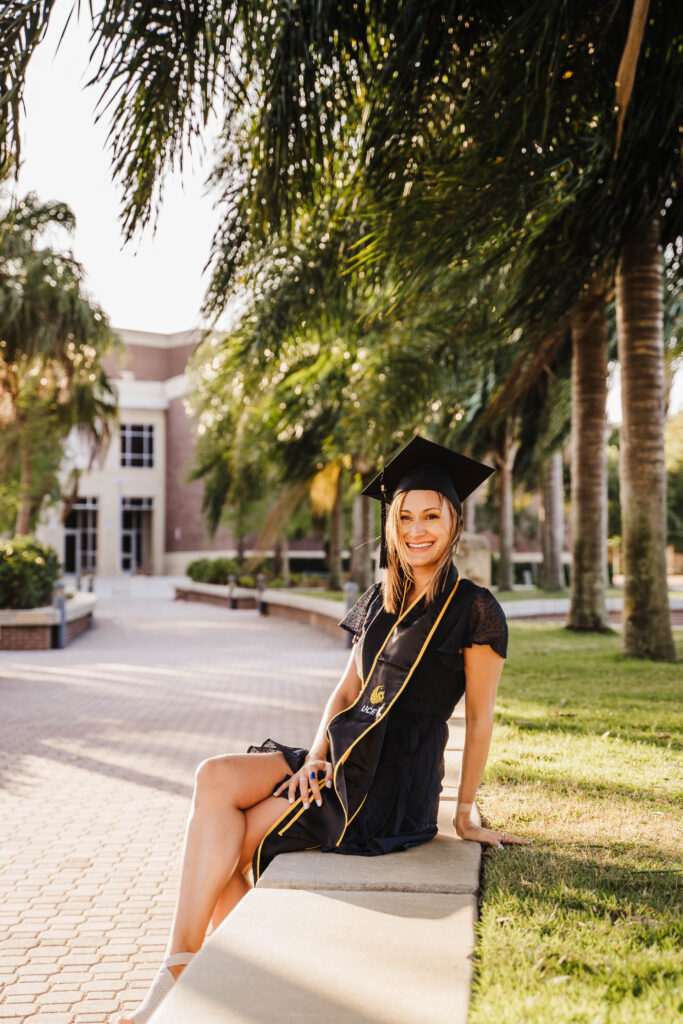 For students, Memory Mall offers a wide array of events throughout their college experience. For football fans, the lawn is filled with tailgaters sharing in the UCF spirit. It has also been a popular spot for students to relax on picnic blankets or hang hammocks from the palm trees to study. Right near Memory Mall is a section of palm trees that is a simple yet fun way to bring the tropical Florida feeling to your grad photos! I recommend Memory Mall as it is centrally located and easy to get to from many other photography spots!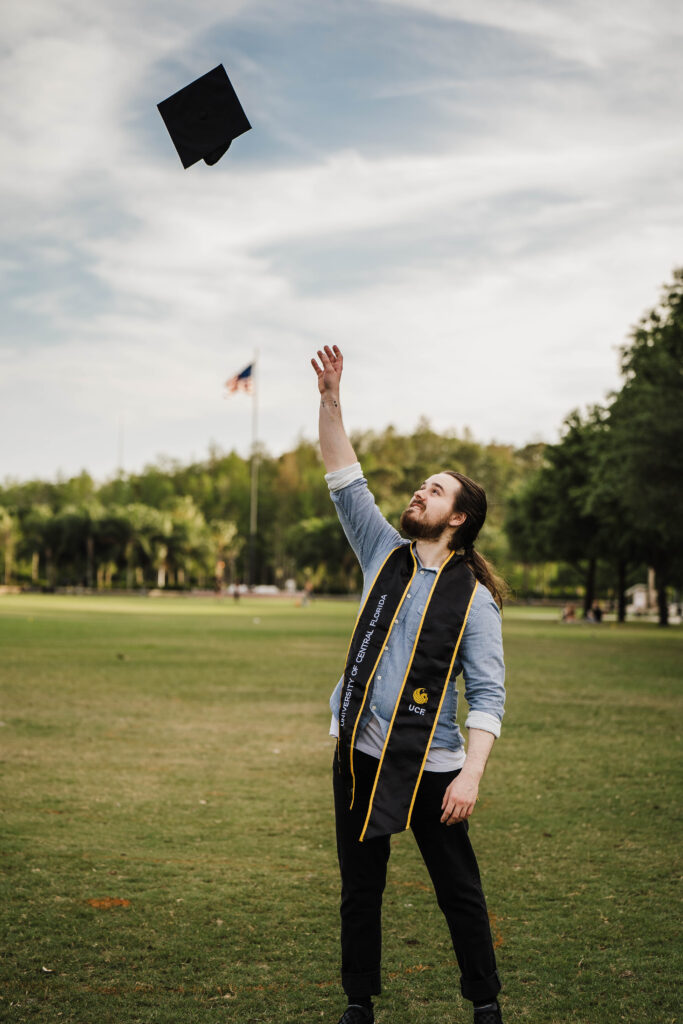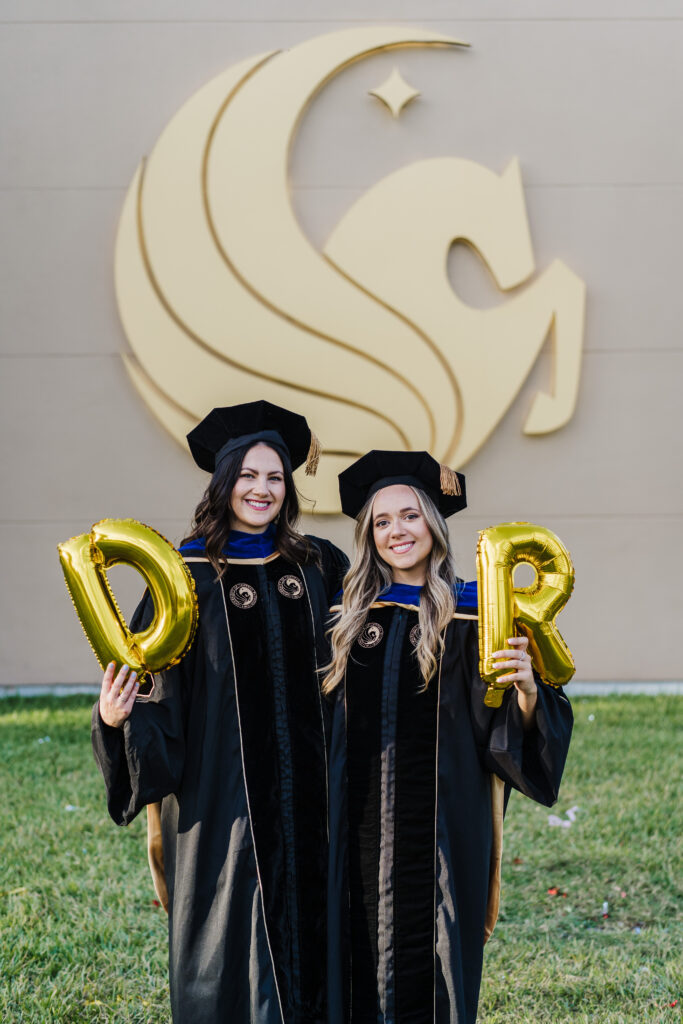 While the Duke Energy Pegasus is a little bit out of the way, I think it is still a very cute spot to showcase one of the most recognizable symbols of the University of Central Florida. The side of the building showcases the school pegasus logo in lights. It offers a fun and spirited background for photos in your cap and gown!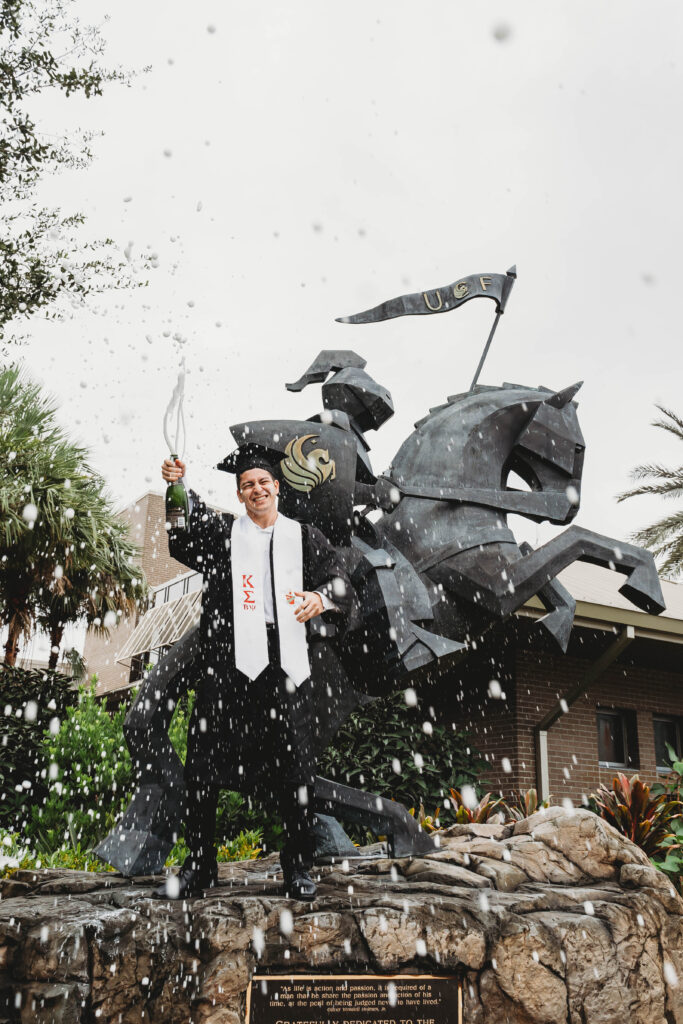 In between the Addition Financial Arena and Memory Mall is the Alumni Knight Statue. It gives grads the opportunity to showcase their UCF pride with a statue of the University of Central Florida Knight on top of a horse with the UCF shield and flag. It is one of two statues on campus that I recommend as it is so close to other great spots. Students frequently pass by it throughout their years at UCF as it is in such a prominent location, so it is a memorable spot for a lot of grads.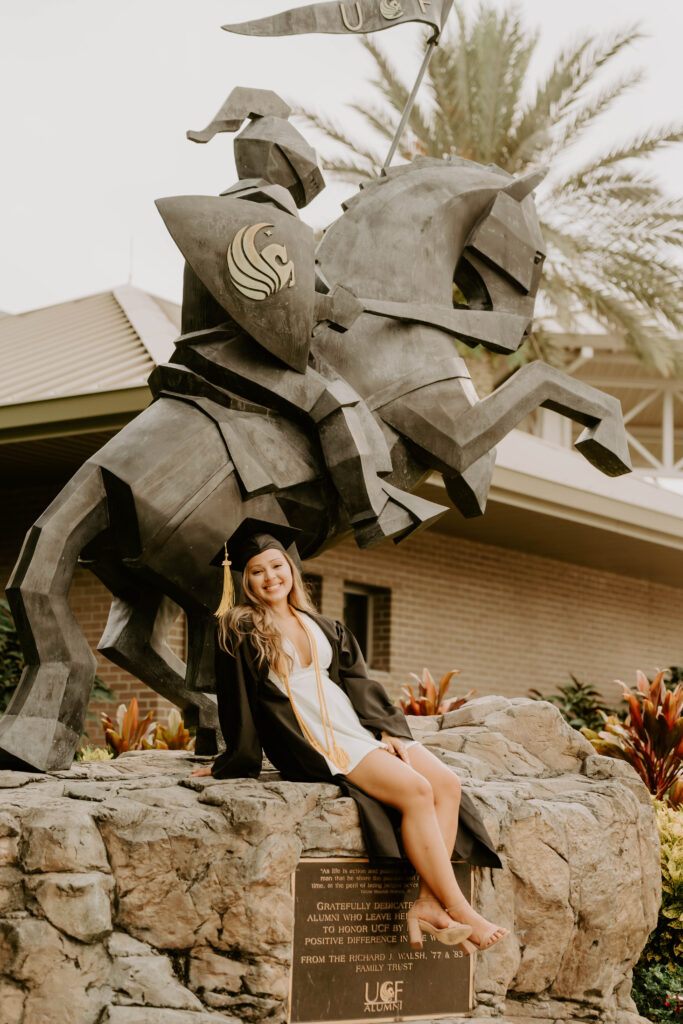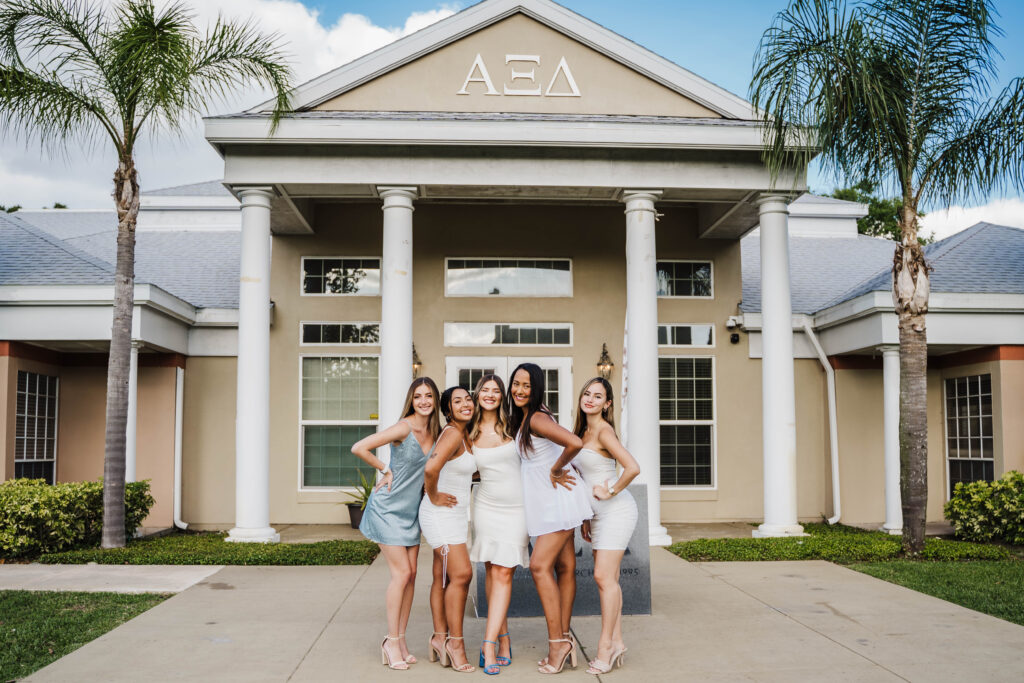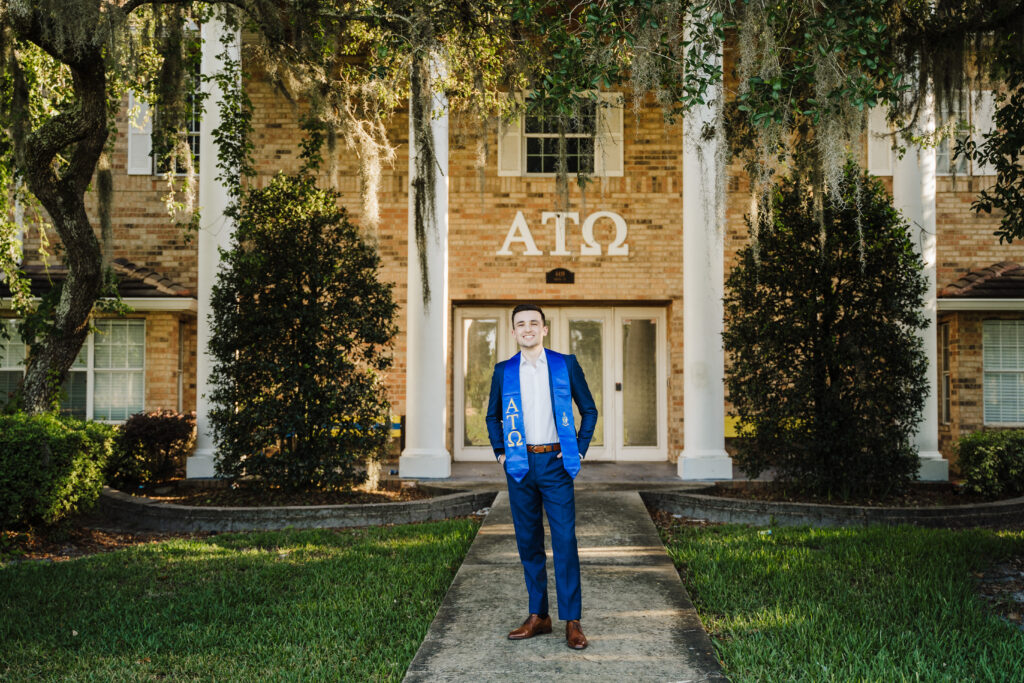 For students who participated in Greek life on campus, Greek Row was home to them. Memories made, bonds formed, and friendships that will last a lifetime make this the ideal spot to remember your college experience. Photos can be taken outside of the houses, in front of the greek letters, and more. I always recommend this spot to students who are active in Greek Life and want to capture their memories in their grad sessions.
#3 Charging Knight Statue (Stadium)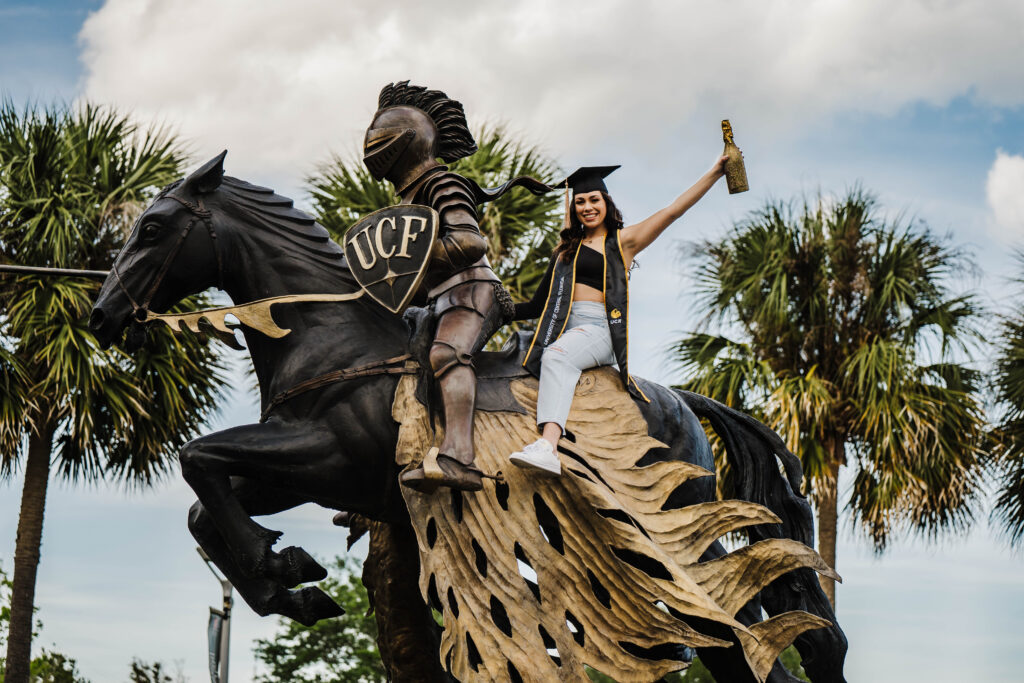 Calling all football fans! Students, like myself, who enjoyed watching the UCF Knights Football team play throughout the season may recognize this statue that stands fiercely outside of the football stadium, also known as the BOUNCE HOUSE. In photos you get a view of the stadium behind you while you stand with the statue. While the inside of the arena is usually closed, the outside offers a dynamic and exciting background in itself. This spot does get crowded around grad season, so be aware that it can take a little extra time here but I still recommend it!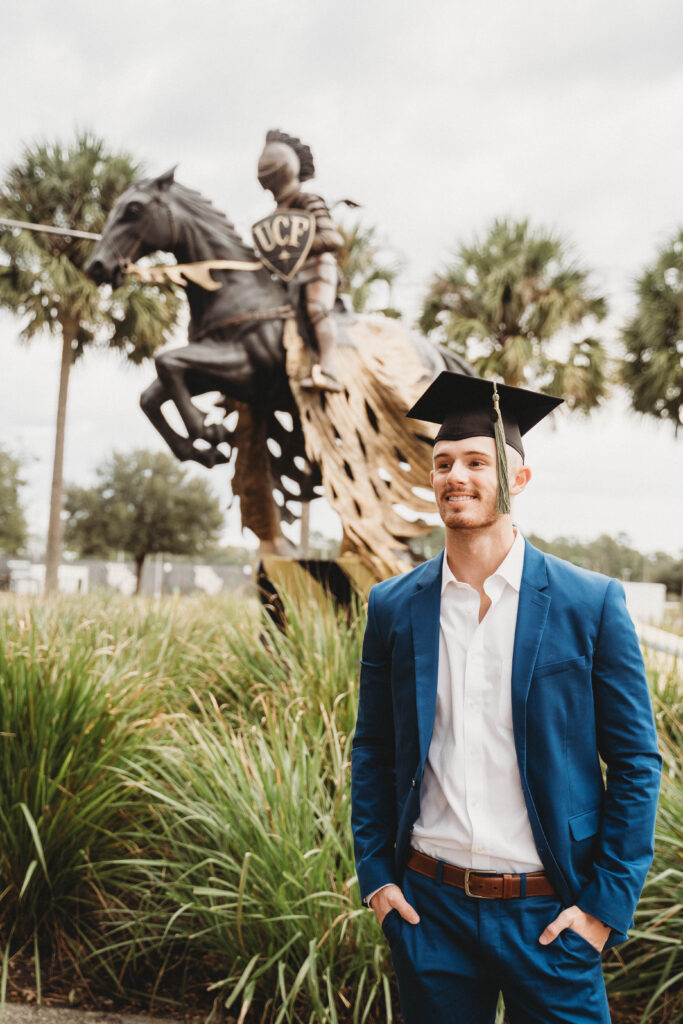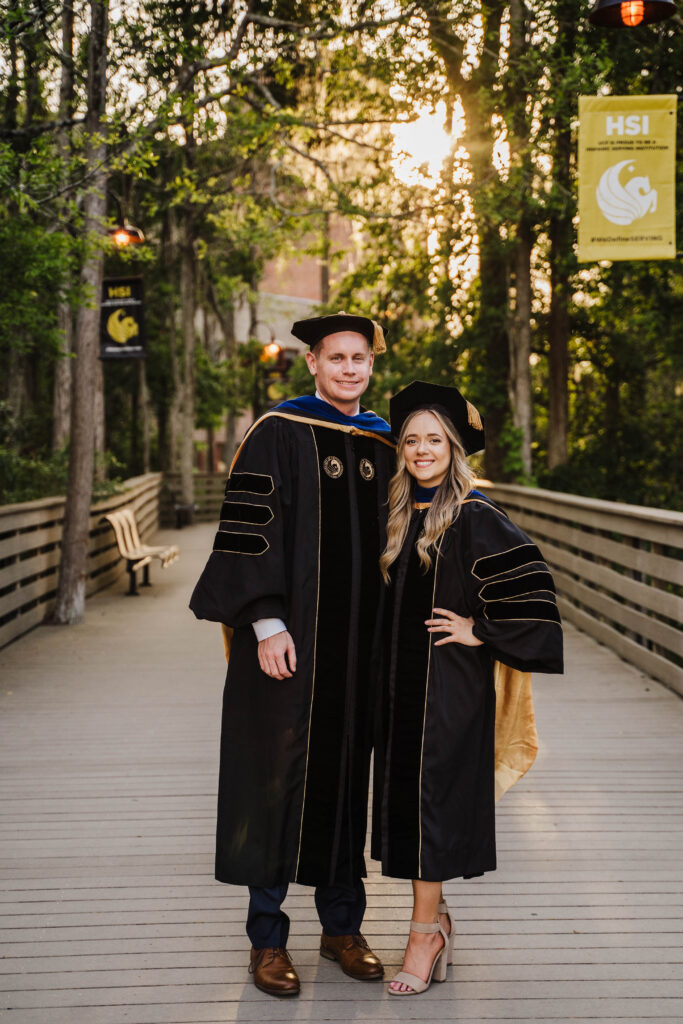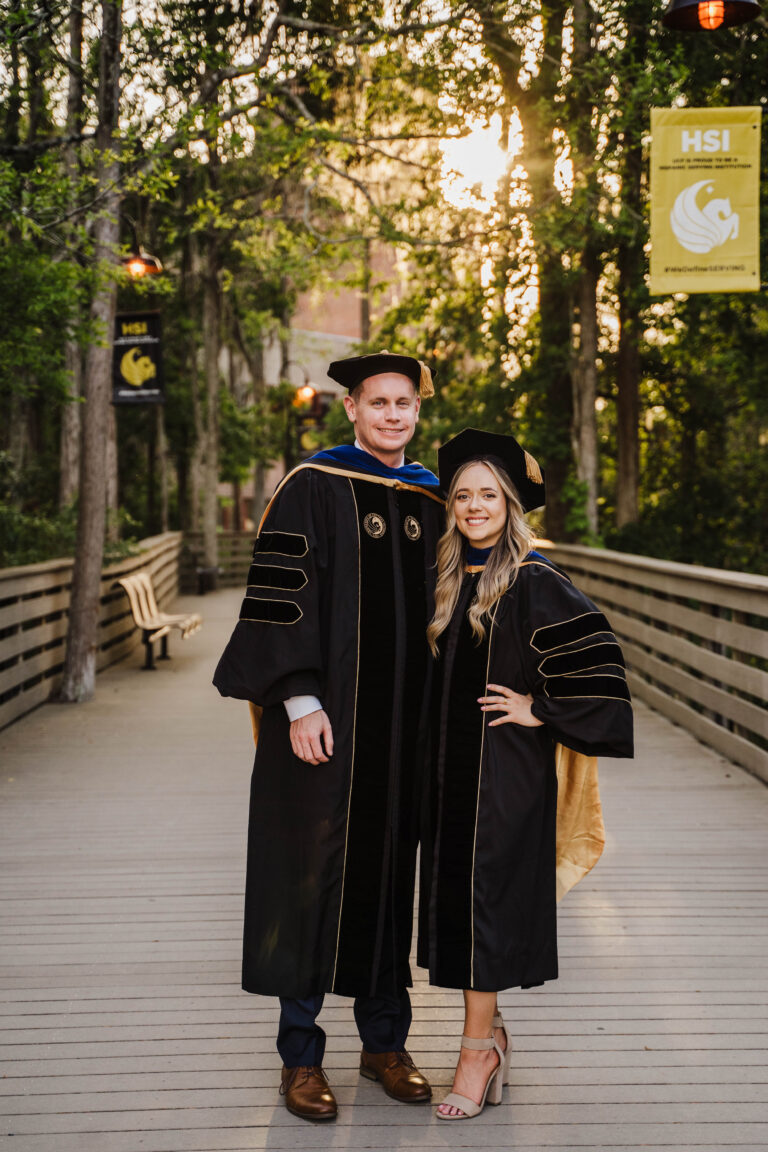 The boardwalk outside of the Student Union is my personal favorite spot for solo and family portraits. With so many UCF focused photography locations nearby, this offers a little variety to your session with beautiful boardwalk photos enveloped in gorgeous tall trees and nature. I took my UCF graduation photos at this location and I highly recommend it to every grad!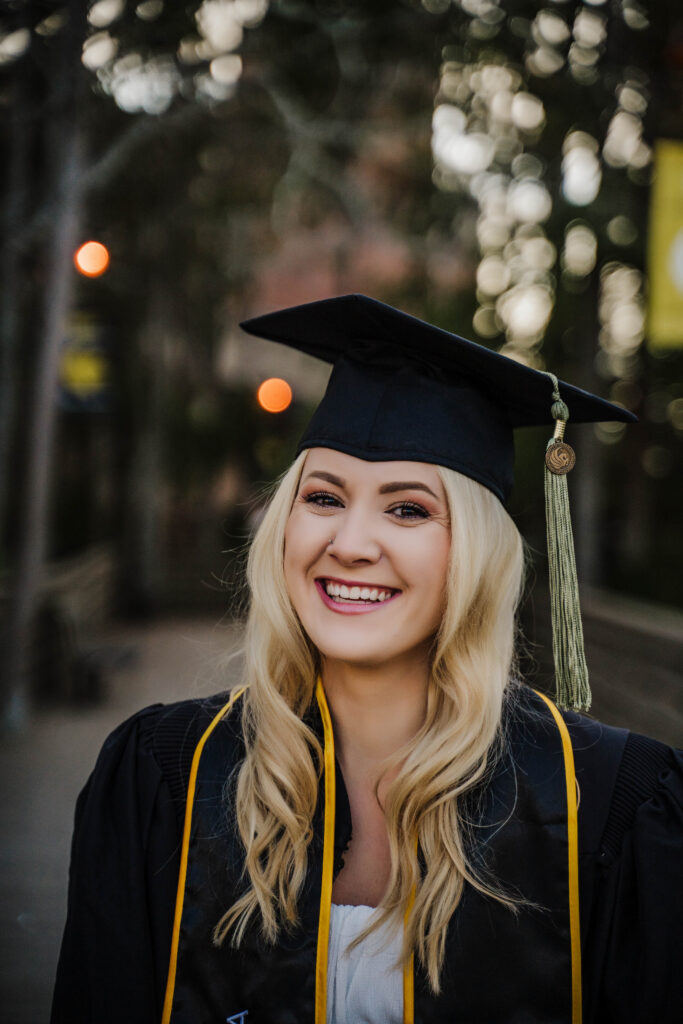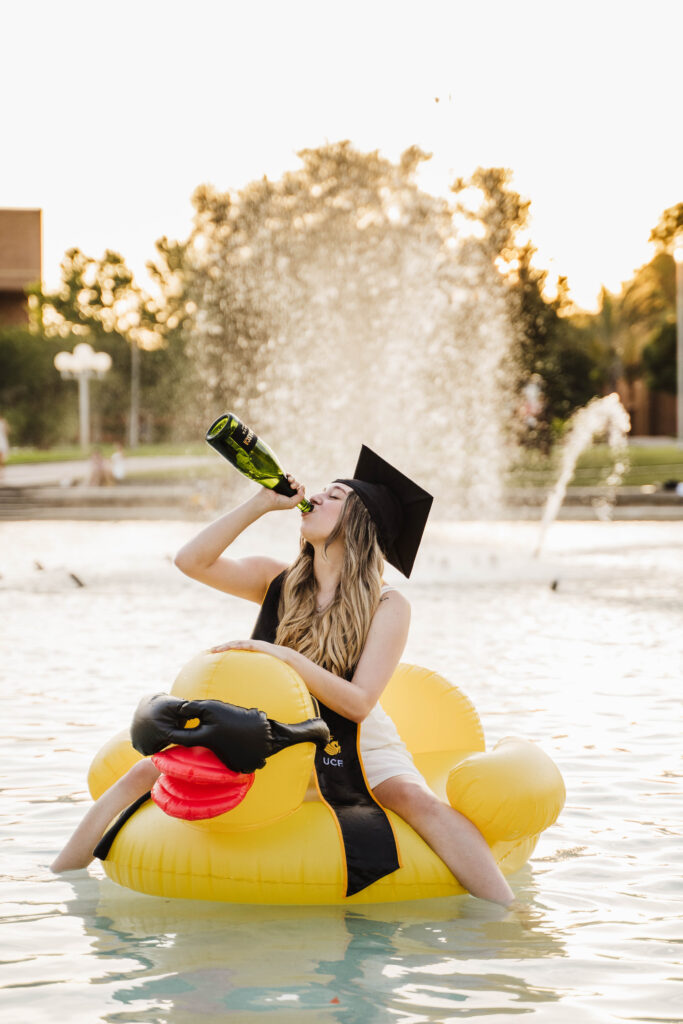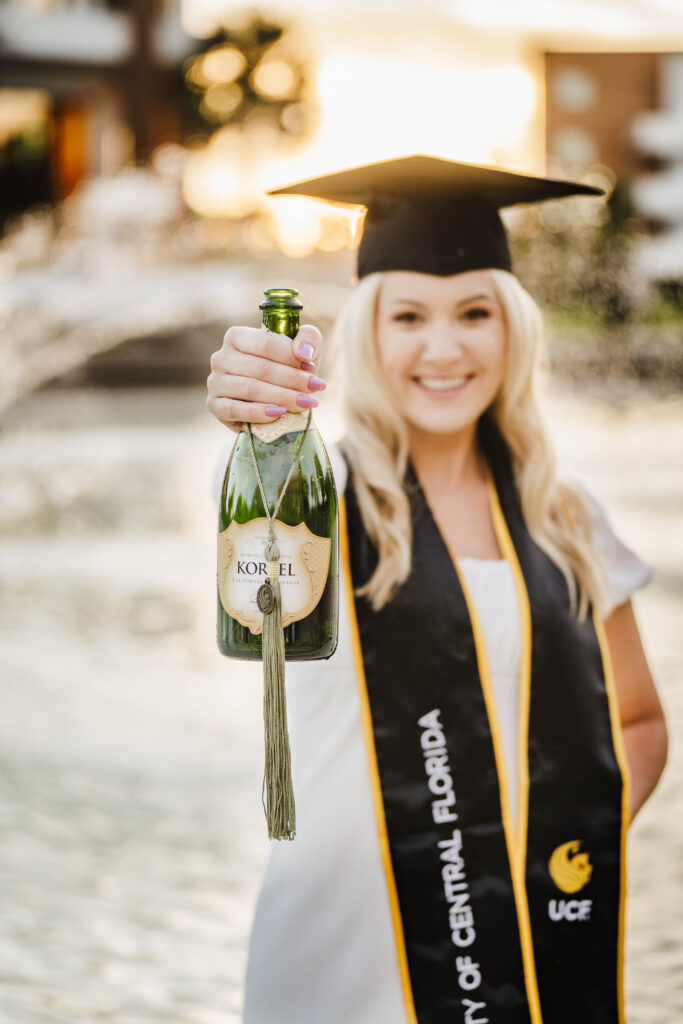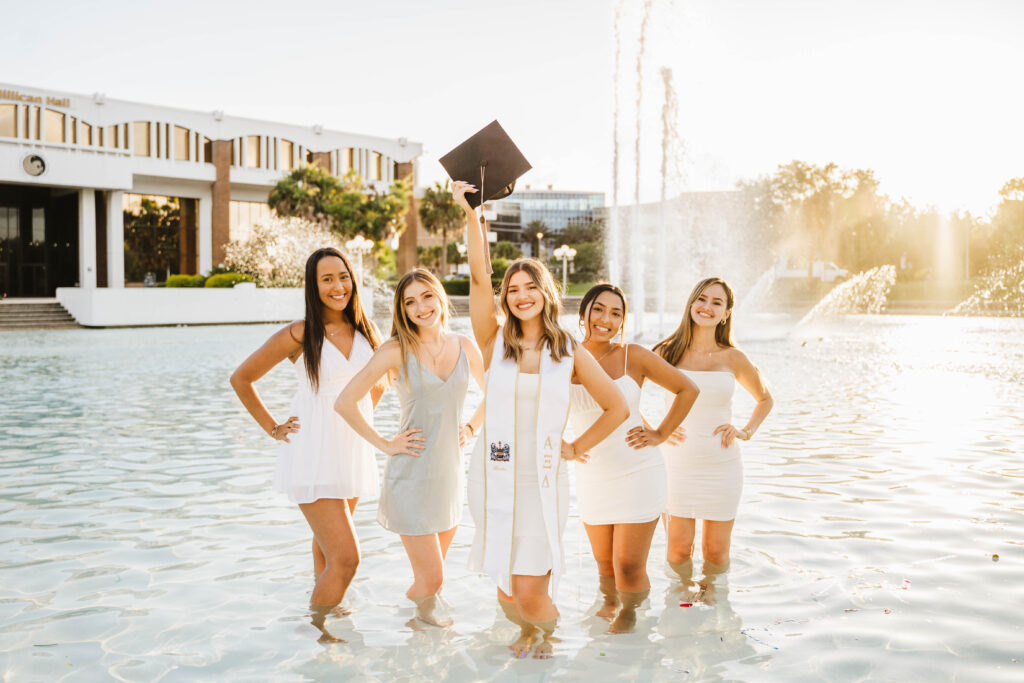 Home to many popular UCF events like Spirit Splash, the reflecting pond is one of the most popular graduation photo spots on campus! What makes this location so unique is that grads have the opportunity to climb into the pond and have fun! This is the time to use props such as pool floats, biodegradable confetti, and champagne! There is so much potential to have fun with these photos and make them your own! I include a bottle of champagne for every grad at sessions so you can really make a splash!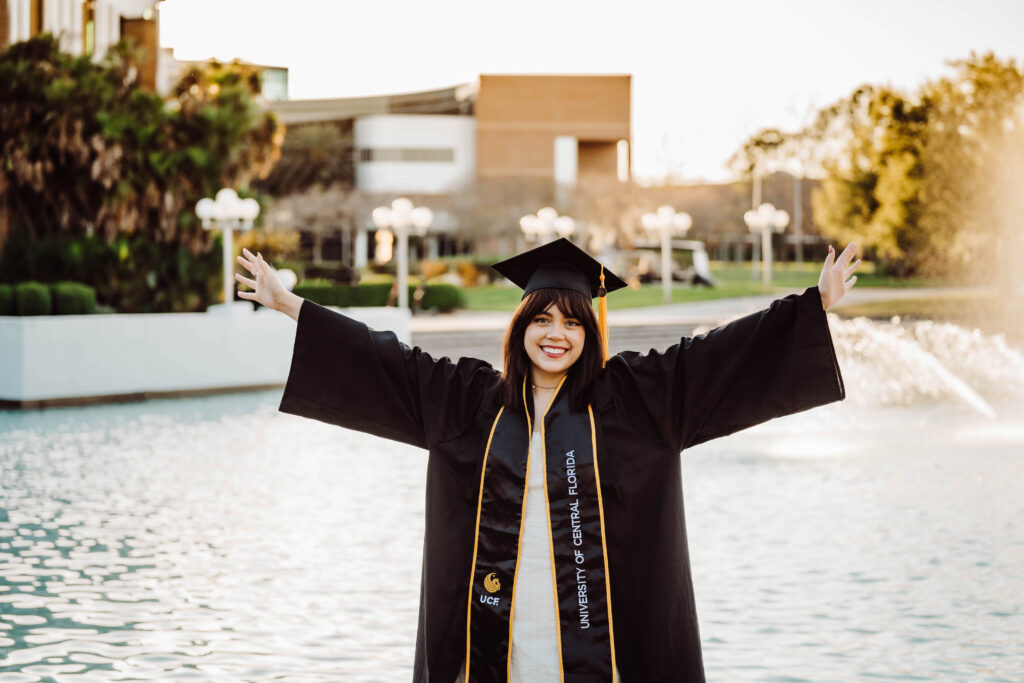 There is no shortage of amazing locations around UCF campus for you to choose from! Some spots may have more memories and significance to some grads more than others, so I encourage every grad to choose locations that have the most meaning to them! These sessions are so much fun as I get to hear stories about each grad's college experience and what UCF is to them as we celebrate their achievements. 
As a UCF alumni, I ask that all grads try to keep UCF campus and our planet clean by using environmentally friendly props such as biodegradable confetti and cleaning after yourselves. I want each graduating class to be able to take the same beautiful photos as the last so let's work together to keep our campus clean!
Want to learn more about Taylor Kuperberg Photography Graduation Portraits?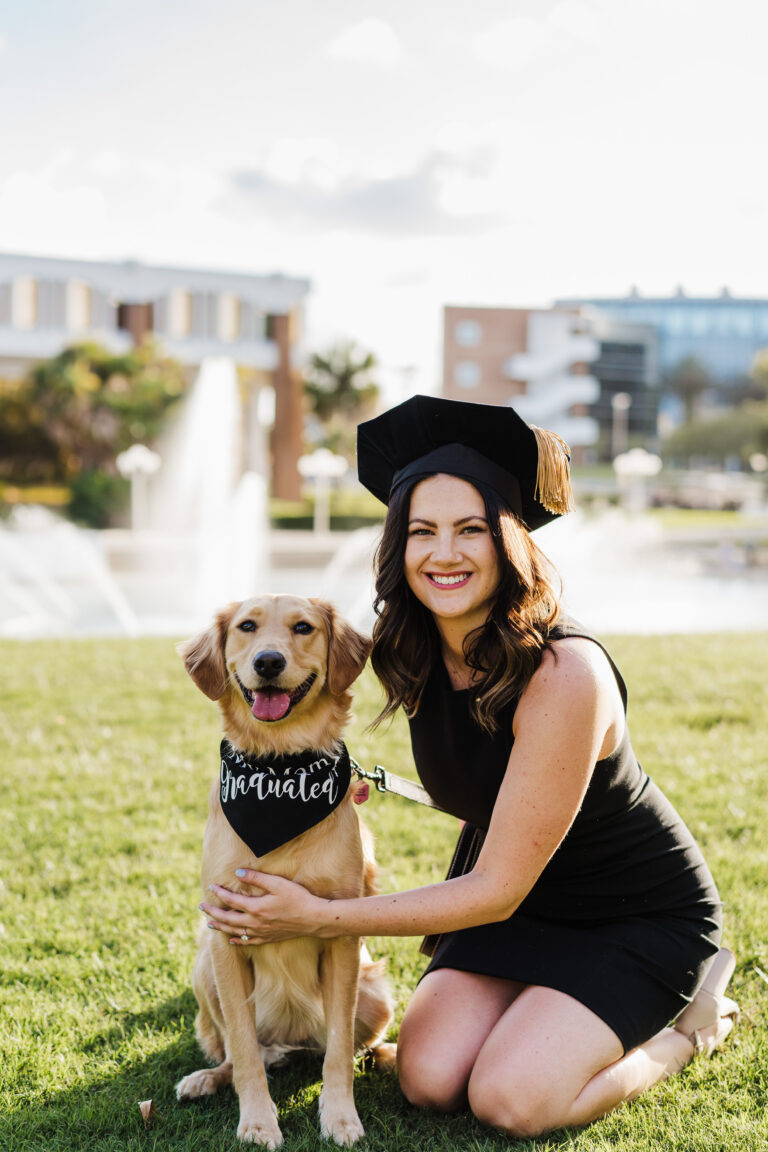 All text and images are owned by Taylor Kuperberg Photography


© Taylor Kuperberg Photography
All photos taken at UCF, University of Central Florida.